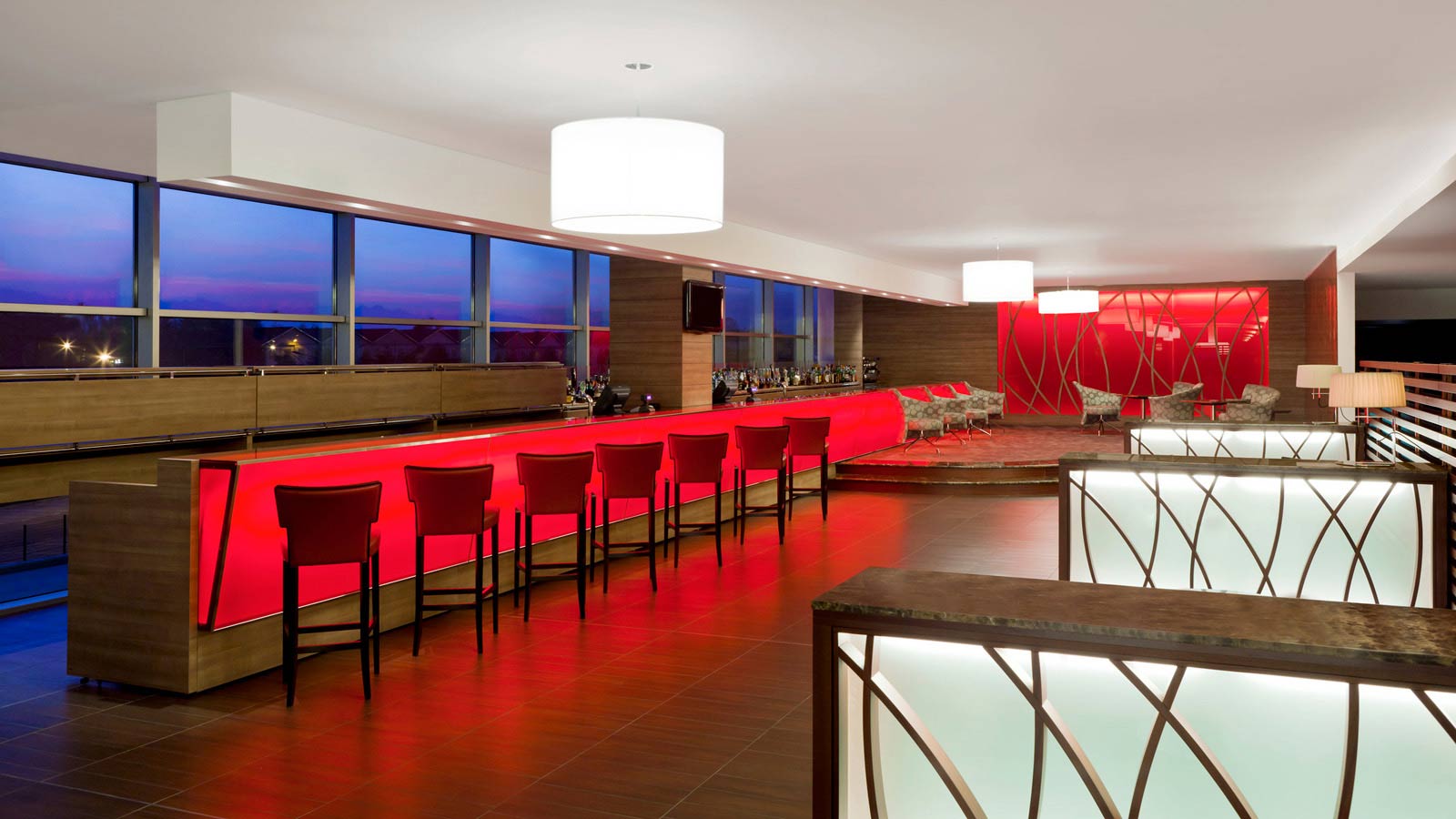 Anything can happen in a great bar, especially when you're travelling. You could fall into a conversation with someone who might change your life forever. Gazing into a perfectly made martini, you might have a really enjoyable moment. The Monte Rosa is one of those bars.
Maybe it's the stunning view, with magnificent Monte Rosa rising in the distance. How many people have sat at the long, illuminated bar and wondered what it might be like to climb Monte Rosa?
Even if you're not a connoisseur of bars, you'll love the way the naturally lit Monte Rosa manages to combine space and openness with an air of intimacy. The bar might be buzzing when you walk in, but you'll always feel instantly relaxed and right at home.
Take your seat at the bar, sink into a comfortable armchair and socialize with other guests or, if you feel the need for privacy, take a table with friends or colleagues. As you'd imagine, the choice of drinks on offer is world-class and includes both great names and rather more eclectic tipples. To give just one example from the long list, alongside the classic Martini the cocktail menu includes a Martini Passion made with vodka, passion fruit and sours.
The kitchen is open from 10 a.m. to 2 a.m. and Head Chef Pasquale Dambrosio has created the perfect menu for the contemporary traveller. For you.
Whether you've dropped in for a late breakfast, a satisfying snack - Monte Rosa finger food is legendary - or something more substantial, the menu will stimulate and satisfy your appetite. A particular favourite is Italian-style Caesar Salad served in a basket made of Piadina, typical stone-baked bread.
Of course, this being Italy, the pizza at the Monte Rosa is outstanding. If you really are in a hurry, you can even order a better class of pizza to take away between mid-day and 10 p.m.
Perhaps your only concern might be that you'll struggle to tear yourself away from the haven which is the Monte Rosa Bar. Relax, the Link@Sheraton, where you can stay connected with all that you care the most, is located right by the bar. You have time.
Breakfast

6:00 AM - 10:00 AM

Lunch

12:00 PM - 02:30 PM

Dinner

07:00 PM - 11:00 PM