Executive Chef Pasquale D'Ambrosio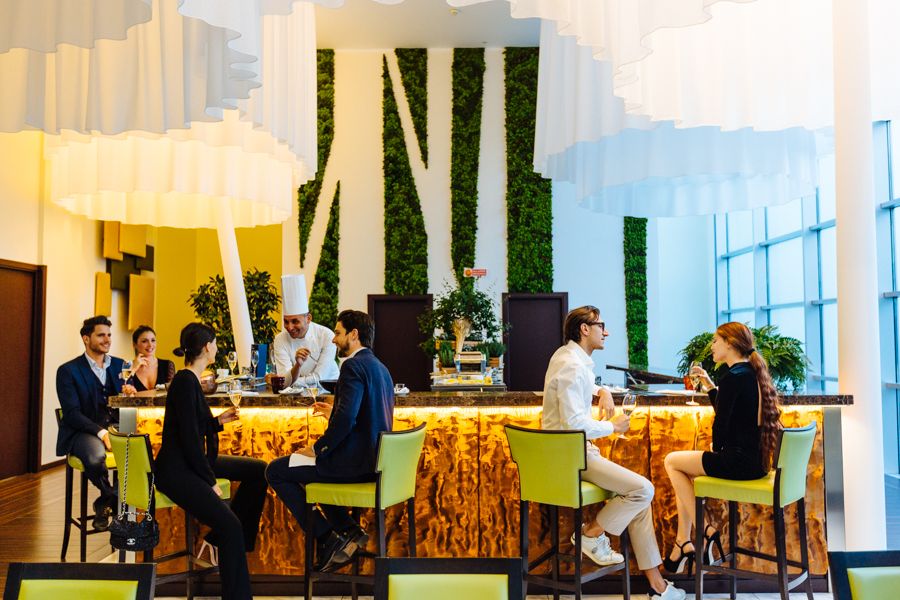 "Every child has a dream in the drawer to be realized, mine was to become a theater actor, perform on stage, I wanted to act, stir emotions, tell stories, then I met the kitchen and I fell in love with it. I realized that my true dream is to make the two arts live together: in my dishes I want to create a show of colors, melodies, perfumes, tastes and culinary poetry: yes, just poetry, the icon of emotion "
Where everything started
Originally from Campania and internationally renowned, chef Pasquale D'Ambrosio discovers his passion for cooking all of a sudden, on a September day of 30 years ago, when still a child remains enchanted in front of a chef who performs country festival. "The man made spaghetti like a charmer," says D'Ambrosio, "while everyone hailed him. It was an emotion, it seemed to be at the theater >>.

His great passion for culinary art, arising from that episode, matured thanks to three key elements: cycling as a child, which educated his diet; poetry, which projected it into a world of passion; the theater, which has fueled its curiosity to explore stories and traditions from around the world.

D'Ambrosio's career begins in the French hotel group Accor, where he immediately starts to get noticed for his creativity. In 2002, at the age of 26, he became the Chef of one of the most important hotels in Milan: the Sheraton Diana Majestic Hotel.
In 2009 he was called by the Atahotels group to direct the kitchen of Petriolo Spa & Resort, where the close collaboration with the team, led him to study specific menus for the well-being of the guests. The attention to wellbeing and the health aspects of the dishes will remain a trademark of his kitchen. At the end of 2010 he was entrusted with the relaunch of another Atahotels structure: the Villa Pamphili in Rome, where he revalued a restaurant called "Anima".

From 2011 to 2014 his culinary journey is enriched with new projects, both in Italy and abroad: he is first called by the Planetaria Hotels group for the opening of the 5-star Château Monfort in Milan; then disembarked in London to take care of a new culinary project, based on the harmony between taste and health; finally he arrives in Turin to direct the kitchen of an important restaurant.
In 2015, the prestigious Starwood Hotels group brought him back to Milan for a new challenge, entrusting him with the cuisine of the Sheraton Milan Malpensa. D'Ambrosio's cooking is defined as an "impressionist": every dish looks like a palette of bright and well-defined colors, with ingredients that do not mix with each other, but combine without creating uncertain chromatic and sensory nuances.

The chef is called by the colleagues and customers the "lover of taste": this is for the creative way he interprets in the kitchen, and by virtue of a strong literary vein that expresses in his culinary theatrical monologues. A talent and a passion that led him to design the Teatro dei Sapori.

Breakfast

6:00 AM - 10:00 AM

Lunch

12:00 PM - 02:30 PM

Dinner

07:00 PM - 11:00 PM